Martin Jordan
Speaking and teaching
Over the past decade, I have spoken at conferences, bar camps and meetups in Estonia, Germany, Italy, Poland, Switzerland, the United Kingdom, and the United States.

I also lectured at universities in Germany, Switzerland and the United Kingdom to students in design and public management degree programmes.
I mostly speak about digital transformation, public sector innovation, and service design. Earlier talks covered brand experiences, design methods and frameworks, and the Internet of Things.

Contact me if you are interested in me giving a talk or workshop.
Upcoming
5 October 2023
Service Design Network Global Conference, Berlin
Talk: 'The long slog of public service design'
in English with Kara Kane
2023
September 2023
Service Design in Government conference, Edinburgh
Talk: 'The long slog of public service design'
in English with Kara Kane
April 2023
Apolitical online session
Workshop: 'How to use service design in government'

in English with Lou Downe
March 2023
International Design in Government community
Talk: 'Working in the open at DigitalService'

in English with Pamela Krostl-Hartl
---
---
2021
August 2021
Work4Germany
Seminar: 'Lernende Organisationen und agile Arbeitswelt'

in German
---
2020
November 2020
Public Service Lab Week 2020
Talk: 'Synopse zu Nutzerzentrierung in der deutschen Verwaltung'

in German with Dr Katrin Dribbisch and Simone Carrier
September 2020
MDR next
Talk: 'Innovation in großen öffentlichen Institutionen'

in German
August 2020
Statistisches Bundesamt (Federal Statistical Office)
Talk: 'UX-Design in der Verwaltung'

in German
February 2020
Royal College of Art, London
Seminar: 'Lean, agile and service design'

in English with Stephen McCarthy
---
2019
October 2019
Mozilla Festival, London
Talk: 'Design in government'

in English with Kara Kane
September 2019
GDS Podcast #12, London
Podcast: 'The International Design in Government community'

in English with Kara Kane
September 2019
Swiss Smart Government Day, St. Gallen
Workshop: 'Prozesswerkstatt: Im Schnelldurchlauf durch den nutzerzentrierten Gestaltungsprozess'

in German with Dr Katrin Dribbisch, Simon Carrier
September 2019
Swiss Smart Government Day, St. Gallen
Talk: 'Mit nutzerzentriertem Design zur guten Verwaltungserfahrung'

in German
September 2019
DTX8, Google London
Talk: 'Making government user-centred'

in English with Kara Kane
June 2019
Kommunale Gemeinschaftsstelle für Verwaltungsmanagement (KGSt), Cologne
Talk and workshop: 'Service Design für Prozessoptimierung'

in German
May 2019
Gov Design Meetup #13, San Francisco
Talk: 'Designing government services that meet user needs'

in English
May 2019
Forum PA19, Rome
Talk: 'Designing government services that meet user needs – The experience of the UK Government Digital Service'

in English
April 2019
Public Service Lab 2019, Düsseldorf
Talk: 'Umsetzung des Onlinezugangsgesetzes und digitale Transformation'

in German with Dr Katrin Dribbisch and Simone Carrier
February 2019
Royal College of Art, London
Seminar: 'Lean, agile and service design'

in English with Stephen McCarthy
---
2018
November 2018
Service Experience Camp, Berlin
Talk and workshop: 'Characteristics of Good Service'

in English
July 2018
Public Service Lab 2018, Berlin
Workshop: 'Servicequalitätsstandards'

in German with Dr Katrin Dribbisch
July 2018
Public Service Lab 2018, Berlin
Talk: 'Vom guten Gesetz zum besten Service'

in German with Dr Katrin Dribbisch, Simone Carrier
April 2018
IT-Planungsrat Fachkongress, Weimar
Keynote: 'Nutzerakzeptanz – das Sorgenkind der digitalen Verwaltung'

in German with Dr Katrin Dribbisch, Simone Carrier
April 2018
Federal Office for Migration and Refugees (BAMF), Nuremberg
Talk: 'Agile Verwaltung'

in German
---
2017
October 2017
City of Hamburg
Talk: '5 wichtige Dinge, die wir in den letzten 5 Jahren lernten'

in German
October 2017
the co–matter podcast, London
Podcast: 'How the UK government designs public services according to human needs'

in English with Kara Kane
October 2017
Public Service Lab 2017, Berlin
Talk and exercise: 'Agilität: Warum agiles Arbeiten in der Verwaltung nützt und wie es funktioniert'

in German
October 2017
ConCon 6, London
Talk: 'Intro to service design for content designers'

in English with Ben Tate
October 2017
D.confestival, Potsdam
Talk: 'Scaling user-centred design in government'

in English with Kara Kane
May 2017
Service Design Drinks, Berlin
Talk: 'Data & services'

in English with Maria Izquierdo
April 2017
IT-Planungsrat Fachkongress, Bremen
Talk: '5 Jahre Government Digital Service in Großbritannien: Erkenntnisbericht eines Deutschen zur digitalen Transformation der britischen Regierung'

in German
April 2017
IDEO Creative Sparx, Munich
Talk: 'How designers help make government better for everyone'

in English
April 2017
City of Munich
Talk: 'Einblicke in die digitale Transformation der Britischen Regierung'

in German
March 2017
Livework minds talks, London
Talk: 'Uncovering the job your service is hired for'

in English with Kieron Kirkland
---
---
2015
November 2015
Service Experience Camp, Berlin
Workshop: 'Capturing Contexts: A workshop with jobs-to-be-done tools'

in English with Andrej Balaz, Hannes Jentsch
November 2015
Jobs-to-be-Done Meetup Berlin #8
Talk: 'Conducting Retrospective Jobs-To-Be-Done Interviews'

in English with Andrej Balaz, Hannes Jentsch, Tor L. Bollingmo
October 2015
Service Design Drinks, Berlin
Talk: 'Designing services for the public'

in English with Katrin Dribbisch
July 2015
ProductTank #7: Lean UX, Berlin
Talk: 'Designing products against customer jobs'

in English with Hannes Jentsch
July 2015
Service Design Drinks, Fab Lab Berlin
Talk: 'Smarter touchpoints & contextual services'

in English with Hannes Jentsch
June 2015
Jobs-to-be-Done Meetup Berlin #6, Berlin
Talk: 'Integrating JTBD into existing tools & frameworks'

in English with Andrej Balaz, Hannes Jentsch, Tor L. Bollingmo
May 2015
KISD Conference, Cologne
Talk: 'Bringing service design in-house'

in English with Manuel Großmann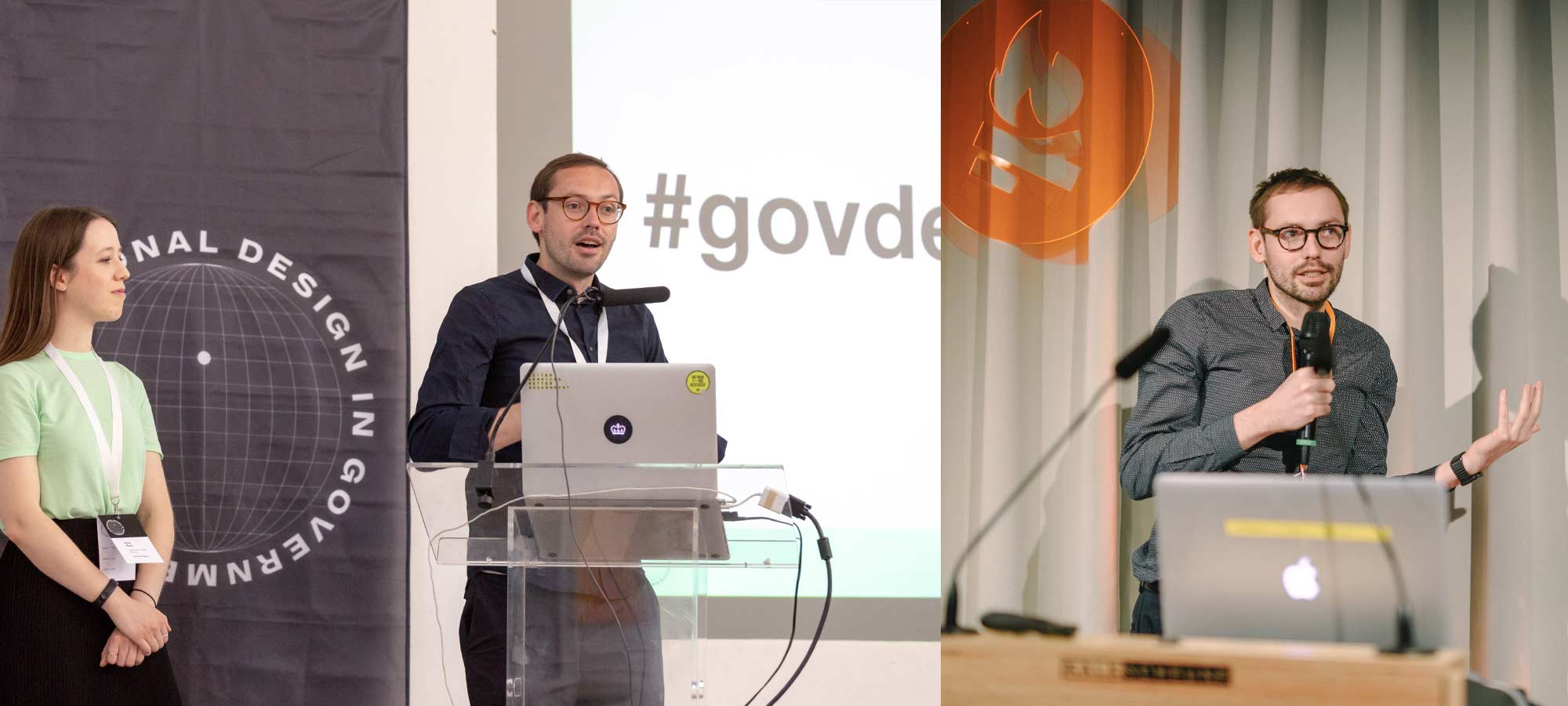 ---
2014
November 2014
Service Design Drinks, Volkswagen Berlin
Talk: 'Making jobs-to-be-done actionable'

in English with Hannes Jentsch, Thomas Hütter
October 2014
University of Applied Sciences, Potsdam
Workshop: 'Apps as Machines'

in English with Hannes Jentsch
June 2014
UX Camp Europe, Berlin
Talk: 'The experience is the message – creating unique airline brand experiences'

in English with Christian Vatter
May 2014
IA Conference: Brand Experience, Berlin
Talk: 'The experience is the message – creating unique airline brand experiences'

in English with Christian Vatter
May 2014
ThingsCon, Berlin
Talk and workshop: 'Apps as Machines'

in English with Boris Anthony, Hannes Jentsch
---
---
2012
October 2012
NEXT Conference, Berlin
Workshop: 'Mapping outstanding service experiences'

in English with Manuel Großmann
June 2012
Service Design Network Germany Conference, Cologne
Talk: 'Bringing ideas to life – the dimensions of prototyping'

in English with Katrin Dribbisch, Manuel Großmann, Olga Scupin
June 2012
DMY Symposium, Berlin
Talk: 'This is service design'

in English with Olga Scupin
---
2011
December 2011
Creative Mornings, Berlin
Talk: 'Global Sustainability Jam: Doing over thinking, making over meeting'

in English with Manuel Großmann
April 2011
re:publica XI, Berlin
Talk and workshop: 'Creating meaningful experiences'

in English with Hannes Jentsch, Johannes Schardt, Christophe Stoll
---